HR and Payroll Software
Make your HR happy again!
Starting from only 10 AED per employee
Experience Smarter, Faster, and More Efficient HR Management with Our HRMS Software. Streamline HR operations, enhance employee experience, and focus on high-value work.
Get full access without credit card.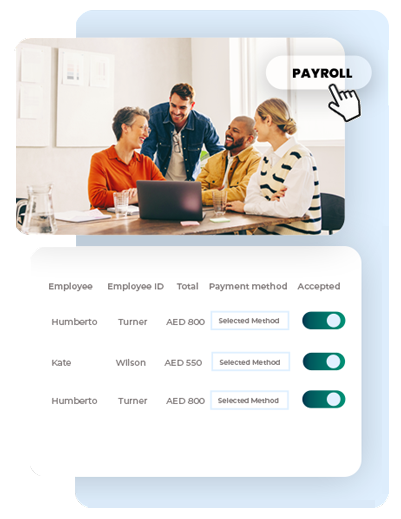 Accelerate Your Payroll Process
Say goodbye to spreadsheets and time-consuming payroll procedures. Our platform integrates all HR data, from time and attendance to employee benefits, to deliver a seamless payroll experience.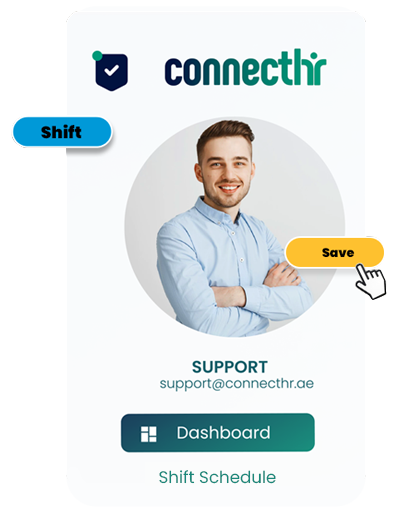 Effortlessly Manage Employee Shifts
Create and organize employee shifts seamlessly. Get rid of manual scheduling and complicated spreadsheet processes. Enjoy effortless shift management, minimize errors, and save time on tedious tasks.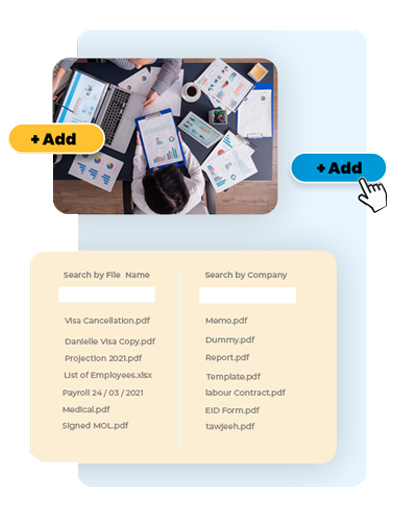 Efficiency Through Multi Level Approvals
Save time and effort with Multi-Level Approvals in one place. Simplify the approval process by eliminating the need for manual and time-consuming processes. Get approvals done quickly and efficiently, leaving you more time for other important tasks.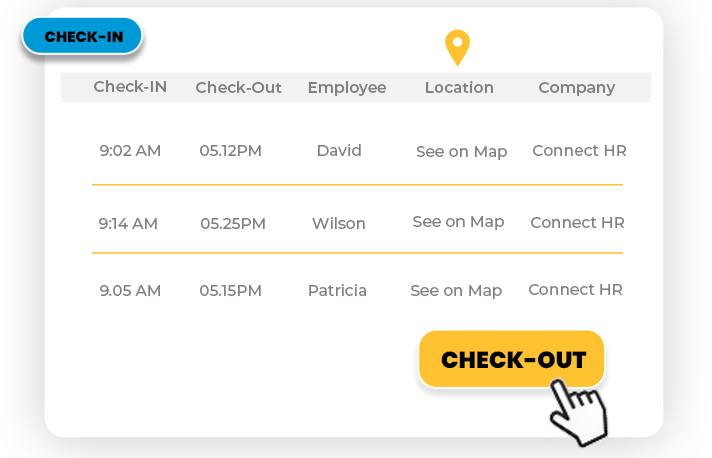 Effortlessly Track Employee Attendance
Keep Track of Employee Time and Attendance easily with Connect HR's Smart Check-In Technology.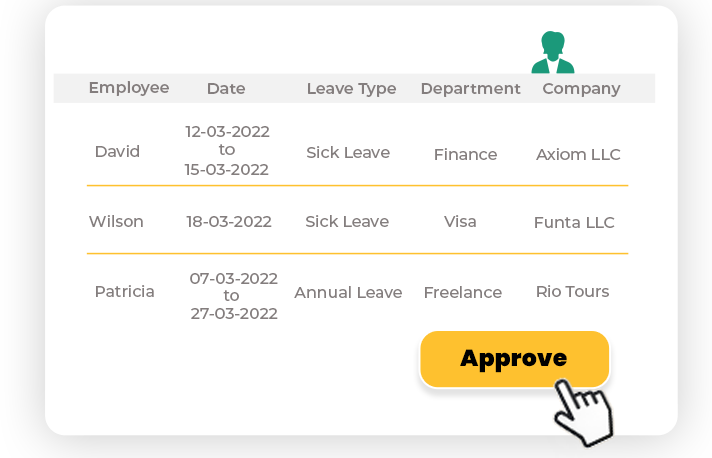 Manage Leave Requests Efficiently
Customize our software to fit your Company's Leave Policy and spend less time on Time Off Requests with Connect HR.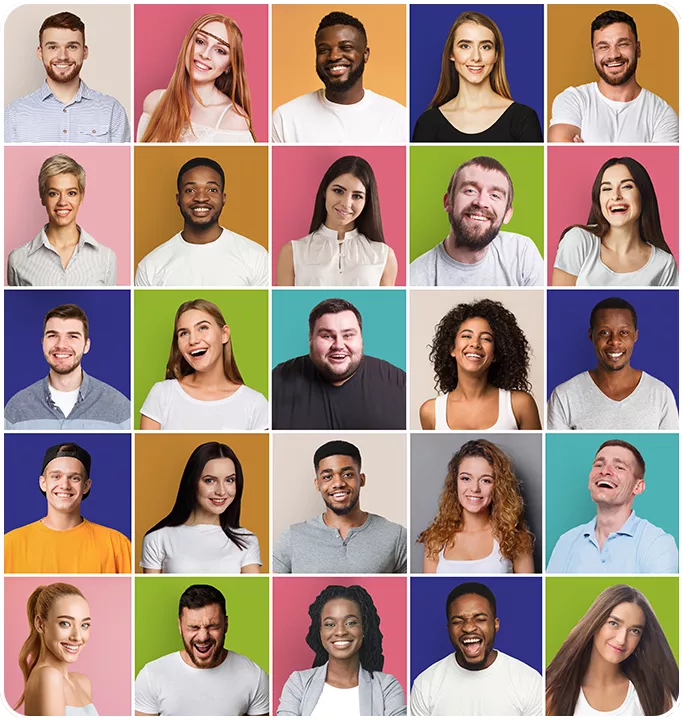 The ConnectHR HRMS Cloud solution enables your team to have exceptional access to work, financial, and medical benefits meant to improve their well-being, productivity, and commitment, as well as to provide and international employee experience.
Claim Reimbursements online.
Apply for leave online.
Documents in 1 place.
Visa processing
Awards & Quality Certificates
Perfection is the key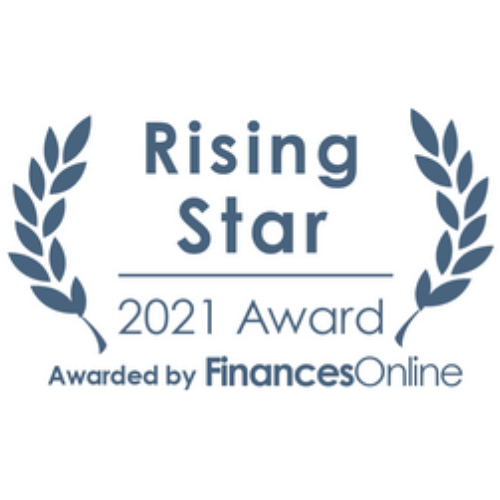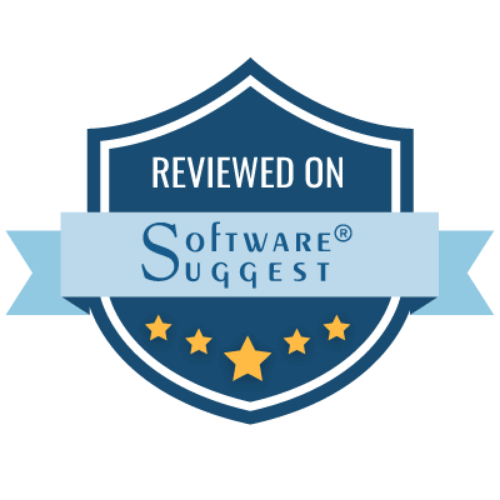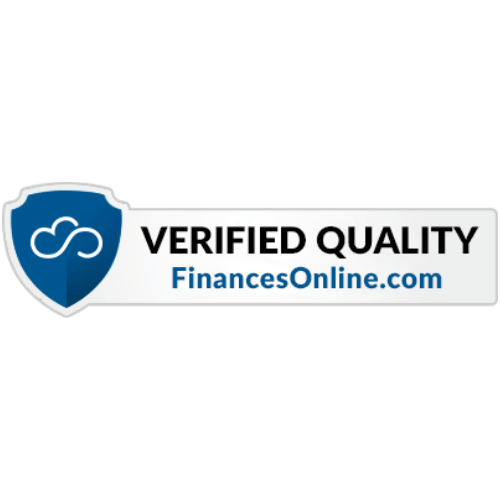 Start your free trial now and discover how our HRMS software can benefit your organization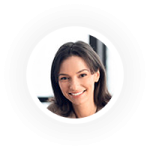 We were in need of a solution that would streamline our HR processes, and Connect HR has exceeded our expectations. The integration with payroll has saved us hours of manual work every month. We're so glad we made the switch!
Rachel, HR Director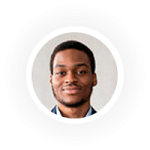 Since implementing Connect HR, our HR team has seen a drastic reduction in manual workload. The software has made it easy for us to keep track of employee data and manage time off requests. We highly recommend it!
David, CEO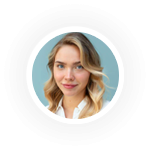 The smart check-in technology in Connect HR has made attendance tracking a breeze. Our employees love the convenience of being able to check-in through the app, and we love the real-time data it provides. It's a win-win!
Sarah, HR Manager

Ready to speak with our experts?
We have all your answers from the implementation to prices. Check now! Make your company better.
Get Started with Connect HR
Our all-in-one HR & payroll management system allows you to:

Run payrolls quickly and efficiently which helps you pay your employees faster.

Manage your leave requests, allowances, and history, as well as any overlaps with HRMS online.

Enhance your employees' experience with our cutting-edge benefits and health insurance solutions, which can be accessed immediately through our HRMS in UAE.

Create attainable and trackable goals for your Dubai staff and provide timely feedback thanks to our HR management system.

Allow employees to check-in and check-out from their smartphones.

COMPANY
Connect HR is a cloud-based
HR solution made specifically
for the UAE. Our software
helps organizations of all sizes
streamline HR processes and
effectively communicate with
their employees.
HEADQUARTERS
Floor 8 & 9, City Tower 2,
Sheikh Zayed Road, Dubai
United Arab Emirates