A Human Resource Management System is software that will allow you to optimize each of the processes that that department handles. This allows you to obtain other benefits that you would not achieve through a manual process. Therefore, your HR department will have more time to take care of other more important tasks.
In this article, you will be able to see all the details related to this technological system of human resources. In addition, we offer you a section where you can find out how to select the right software provider for your company. Let us see:
1. What is the Human Resource Management System?
2. Functions of the HRM system
3. Benefits of the Human Resource Management System
4. Security of the HR management system
5. Choose the best HR software
6. We help you implement an HR system
1. What is the Human Resource Management System?
A Human Resource Management System (HRMS) is software that allows you to automate most of the services of this department. In this way, HR professionals can optimize processes such as incorporation, monitoring, and evaluation, among others. In addition, this allows the Human Resources department to focus on more important aspects of the business.
This includes employee retention, training of diverse teams, and improving the working conditions of employees. In addition to other benefits, centralized HR management software enables quick and easy decision-making. Thus, this type of system helps to improve the main aspects of the staff management of the company.
2. Functions of the HRM system
As we mentioned in the previous section, the Human Resource system streamlines many of the related functions. In this way, many small and medium-sized companies will be able to benefit from the following:
2.1 Recruitment and onboarding of employees
Through these systems, you can simplify the search, selection, and recruitment process. This is because you can comply with the process from the publication of offers to the management of the documentation. In addition, you can integrate the system with social networks to expand search spaces.
Additionally, the HR system also provides a platform for the onboarding of new employees.
2.2 Training and development
Thanks to the HR management system, youwill be able to know the employees who need training and attend to this situation.This way, you will be able to train your employees according to their skills, role, and aspirations. This will allow you to keep your employees while you achieve your business training goals.
2.3 Payroll Processing
With the Human Resource Management System,youwill be able to meet your payroll needs accurately in each cycle. In this case, it reduces the occurrence of errors and allows compliance with the laws of the country. Furthermore, you will be able to perform the calculations accurately considering attendance, overtime, benefits, etc.
2.4 Attendance management
This type of system simplifies the tedious task of managing attendance records manually. In this way, you will be able to support the payroll system by having a more accurate figure for overtime, daily attendance, etc. Also, the system is more efficient to know exactly the permits and vacations of the workers.
You can integrate a biometric system into your HR software to automatically record the attendance of your employees.
2.5 Performance management
You can incorporate the performance metrics of your business employees into these management systems. Thus, you will be able to have an exact evaluation of the productivity of each of your workers. Also, this will allow you to identify your talents and reward them appropriately at your discretion.
2.6 Self-service for employees
Through the management systems, you can offer your employees a space so that they can know their information. In this case, you can use one of the HRIS systems protected by passwords so they can access it securely. Therefore, this will allow your workers to do the following:
Check their attendance hours
Upload and download documents
Request free time
Mark their attendance
Access contact information
In addition to other activities that your workers can do that will benefit them and your company.
2.7 Report management
The Human Resource Management System can generate reportsthrough the data collected in its database. Thus, managers do not need to contact Human Resources personnel for information. In these cases, all you have to do is enter the system and directly consult the data you need.
Transform your HR department with our all-in-one software solution!
Save time and money with our innovative HRMS software - Request a demo today!
3. Benefits of the Human Resource Management System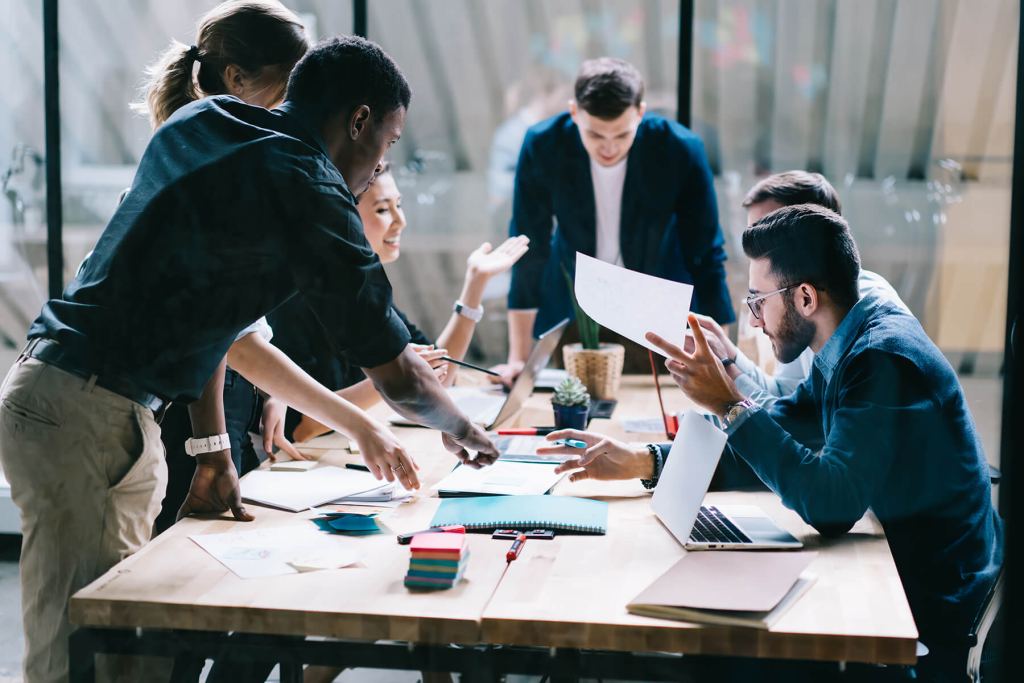 Human Resource software provides you with certain benefits in various areas of your business. These include the following:
3.1 Productivity
The HR management software allows the said departmentcan rest from certain activities. Thus, they will be able to use the time available to carry out other more important tasks such as those related to training. In this way, by focusing on core tasks, the productivity, and efficiency of the team increase.
3.2 Cost savings
Human Resources teams are made up of managers who handle the most complex tasks. Therefore, companies must spend on salaries and costs to retain this team of professionals. However, with integrated HR software, you can perform all of these tasks more efficiently.
Also, you do not need a large number of people to handle all the software involved in HR processes. In this way, you will only have to invest in the software and the professional in charge. However, you have the alternative of having an outside company handle this process for you.
The expenses will be less than the original costs of hiring an entire team for these tasks.
3.3 Easily accessible information
The traditional way to search for information is through documents, spreadsheets, or files. However, the best HR software allows easier access to all the required information. This also saves time in searching, selecting, and using the relevant information.
3.4 Reduce errors
With a good Human Resource Management System, you can reduce human errors to a minimum level. In addition, the software can perform a multitude of calculations automatically and accurately. Therefore, you can carry out the payroll process completely automatically and without errors.
3.5 Streamlined onboarding process
It takes a lot of time for HR departments in companies to go through the employee onboarding process. However, this activity will not have to last as long thanks to the fact that the HR system simplifies it.
Streamline your HR processes and improve efficiency
Stay ahead of the game with our innovative HRMS software!
4. Security of the HR management system
A Human Resource Management System contains all the personal and salary data of your employees. Also, it contains a lot of confidential information about your business in various aspects of it. However, the system offers security guarantees to protect said information.
For example, it has strong security measures so that only authorized people can manipulate them. All these data have two-factor protection and have different accesses according to established levels. Security systems consist of the following:
Each employee has a two-step authentication process to access their information. Also, you can apply it in two different ways, one of them being through personal mobile devices. On the other hand, you can use an authenticator app to access the HR portal.
Likewise, there are different levels of access depending on the role of each employee. In this way, managers, employers, and employees have different levels of access to the system. Therefore, each level will only be able to see the corresponding information according to the system configuration.
Another aspect of the HRM system to consider is the creation of strong passwords. This includes discarding those that contain some data such as names or words that are easy to guess. Therefore, you should set up a change of passwords regularly for secure access.
Thus, the security of these systems is also a substantial benefit that your company will receive when implementing them.
5. Choose the best HR software
Choosing the best Human Resource Management System can be somewhat complicated due to a large number of options available. However, you should focus on finding the system that best meets your business needs. Otherwise, you will have to face obstacles that do not benefit your Human Resources process.
Therefore, we offer you some recommendations so that you can choose the right software for your HR:
5.1 Analyze the challenges you face
Start by defining the HR challenges facing your organization. In this case, you should evaluate the following aspects:
Personnel management
Compliance
Employee training
Retention
Data management
In addition, you must evaluate each of the aspects that you want to improve in your business and your expectations. In this way, you will be able to find ways to improve the Human Resources practices of your business.
5.2 Seek technology advice
Seeking advice about the technology you are about to introduce into your business will allow you to have a clearer vision. In addition, you must express what your challenges and needs are regarding the HR of your business. In this way, the adviser will be able to tell you which software you need to cover your business needs.
Also, you will be able to know what the current trends are in this particular case.
5.3 Set a budget
After figuring out what you need, you need to figure out the costs you will have to face to get the right Human Resource software. From there, you must calculate a budget that suits the needs you want to cover. Also, at this point, you will need to consider the size of your organization.
In addition, you should consider related costs such as implementation, maintenance, data movement, etc. Therefore, you will be able to create a list of providers of these systems that fit the budget that you have established.
5.4 Shortlist some providers
The next step is to do some research about the providers you have shortlisted based on your budget and needs. Start by determining if the provider can provide you with the solutions you need based on the challenges your business faces. Additionally, you must ensure that the services you offer are integrated and customizable solutions.
In this way, you will be able to have a product that offers you the specific solutions that your business needs. In addition, you must establish communication with said providers to see first-hand the benefits you could obtain. You can even request a demo of the product you want to purchase.
In this case, please ensure that people involved in the use of HRMS can see this demonstration.
5.5 Make your choice
If you have carried out each of the steps in detail, you will be able to choose the best system for your business. From there, you can start with the implementation of the Human Resource system in your company. All this process must be accompanied by the training of your employees so that they make appropriate use of the new system.
Also, make sure that those running the software have the necessary help in case they need it.
6. We help you implement an HR system
Through this type of system, you can streamline many of the Human Resources processes of your company. Thanks to the technologies implemented, the times, costs, and efforts of that department are reduced. However, you must ensure that the software covers each of your business needs.
In this sense, with our advice, you will be able to obtain the best that this type of software can offer. In addition, we can offer you the following services for your company:


We help you determine your needs for HR management software and other aspects of this department. You can contact us through our telephone number +971 43 316 688. In addition, you can send your questions and concerns to contact@connecthr.ae.
On the thetalentpoint.com web portal, you can find multiple and attractive job offers in the Middle East. You will only have to register to know each of the offers and opt for them. Once this is done, you can send your CV to contact@thetalentpoint.com.